BIO
Terminal is the sinister source out from the darknet. This mysterious Artist is focusing on dark hard techno sounds. Since his appearance, he has been infecting the scene with his various underground kicks and a threatening bassline. On stage Terminal immediately takes control with his ground shaking shattering bass and takes the crowd down into dark world of hard techno. By pursuing his ultimate goal, his sound is already supported by various artists of the Hard-Dance scene.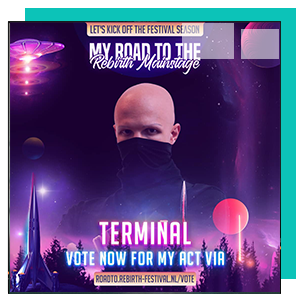 TERMINAL IN THE FINAL FOR REBIRTH
Yes, his sound and style is unique – and this is what he let him being under the final 10 participants for this years Rebirth Festival 2023. The votes are open and we are thrilled to see, that Terminal is already that far within 1 year of existince.
TERMINAL AT BASSLINE
After his recent chart breaker 'Compromise' we had no other choice but to bring this man on stage. His Dark Techno vibes are devastating but demanded by the crowed. Lets see what he wil bring!!!